The Agatha Raisin Series
The Agatha Raisin Series by M C Beaton has been going for years and has attracted a large loyal following.
Hiss and Hers
I was given the 23rd Agatha Raisin mystery  as a birthday present and I'll admit I took a long while to actually start reading it. I had been put off the character of man-hunting Agatha Raisin after listening to an audio book of the series read by Penelope Keith. A fine actress but way too old to convince me she was in her early 50's.
So I eventually started reading the book, trying to put Penelope's voice out of my head. Then I stumbled upon the new TV version staring Ashley Jensen Now I had a believable 50ish woman to relate to.
Why should her age matter? Because it matters to Agatha Raisin. As one reviewer commented "Agatha [is] up to her old tricks: obsessing over wrinkles, tottering around in uncomfortable and inappropriate sky-high stilettoes, all in the pursuit of an unattainable man."
Not that growing old should worry her, as she appears to be perpetually in her mid-fifties. A characteristic commented on by a number of the book's Amazon reviewers.
The Plot
Agatha has fallen in love again.
This time she has her eye on the local gardener, George Marston. But competition for his attention abounds. With her shameless determination Agatha will do anything to get her man. This includes footing the bill for a charity ball just so that she can dance with him.
Unfortunately, George is a no-show.
So Agatha goes looking for him and finds he has been murdered!
Poor George has been bitten by a poisonous snake and buried in a compost heap. Rising to the occasion, Agatha rallies her little detective agency to find the killer…….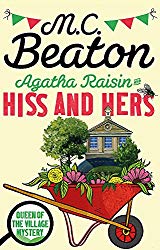 Interested in knowing how the whole series began?
In the first book of the series, Agatha Raisin and the Quiche of Death (1992), Agatha is 53. Early retired from being head of her own PR Company, she has moved to a cottage in a remote rural village in the Cotswolds.
In an attempt to make friends, she enters the local quiche-making competition….and to make quite sure of first prize she secretly pays a visit to a London deli.
Things don't go to plan. Agatha is revealed as a cheat, as well as a potential poisoner, when the competition judge dies after eating her quiche.
So Agatha must turn amateur sleuth and track down the real killer……