A Typo, a Werewolf and Two Dopey Daschunds
by Steve Higgs
This book tells the story of how the Blue Moon Investigations started. There are (currently) 7 books in the Blue Moon Investigations Series, not including this one.
Book one, Paranormal Nonsense, was written when Steve Higgs was a Captain in the British Army. So having the book's hero as ex-armed forces makes sense. The twist with these books is that Tempest Michaels, the want-to-be private investigator, finds his new business advertised as a paranormal investigator due to a typing error. The mix up is mentioned in book one, but expanded on in book zero – A Typo, a Werewolf and Two Dopey Daschunds.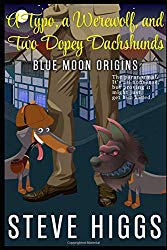 Description from Amazon:
Tempest Michaels is about to have a bad week. When a newspaper ad typo sends all manner of daft paranormal enquiries his way, P.I. Tempest Michaels has no sense of the trouble and danger heading his way. In no time at all, he has multiple cases to investigate, but it's all ridiculous nonsense like minor celebrity Richard Claythorn, who believes he is being stalked by a werewolf and a shopkeeper in a nearby village with an invisible thief. Solving these cases might be fun if his demanding mother (Why are there no grandchildren, Tempest?) didn't insist on going with him, but the simple case of celebrity stalking might not be all it seems when he catches a man lurking behind the client's property just in time to see him step into the moonlight and begin to transform. All he wanted was a nice easy job where he got to be his own boss and could take his trusty Dachshunds to work. How much trouble can a typo cause? The paranormal? It's all nonsense, but proving it might get him killed.
Tempest Michaels is unhappily single, employed to investigate a paranormal world that he is certain does not exist.
A fun read that was easy to race through. The cases may be paranormal but the way he goes about detecting them isn't.
Recommended