Not Dead Enough is the third book by Peter James
in his Roy Grace series. It has been turned into a play by award winning writer Shaun McKenna. We saw it with Shane Richie playing DS Roy Grace in 2017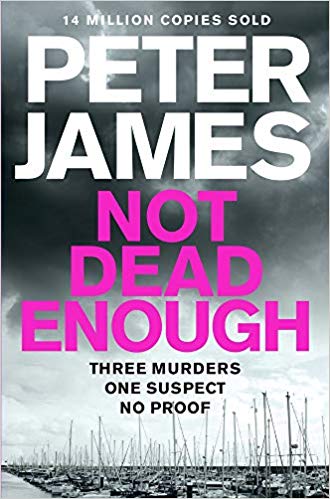 Appearances can be deceptive; but the truth is a dangerous thing . . .
The plot follows the case of the murder of Katie Bishop. On the night of her murder, her husband, Brian Bishop was sixty miles away, asleep in bed at the time.
Or was he?
Detective Superintendent is called in to investigate the kinky slaying of the beautiful socialite, and he soon starts coming to the conclusion that Brian Bishop has performed the apparently impossible feat – He was able to be in two places at once.
Has someone stolen Brian's identity or is he simply a very clever liar?
Everything is not as it first seemed and, as Roy Grace digs deeper behind the façade of the Bishops' outwardly respectable lives, the fragile stability of his own troubled world begins to face destruction.
Love can be a dangerous thing…
Detective Superintendent Roy Grace has to deal with his thoughts on the mysterious disappearance of his own wife nine years ago, while investigating the death of Mrs Bishop. Add to that, a threat on the life of his new girlfriend, police mortician Cleo Morey. Things are not going well for Roy Grace.
The Roy Grace series of books by Peter James are available from https://uk.bookshop.org/lists/peter-james-roy-grace-series