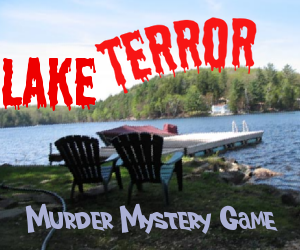 When David and Heather Dodgy hosted a potluck dinner party at their cottage things turned nasty.
David and Heather got into an argument after dinner.
Stepping out for some fresh air, most of the guests returned 30 minutes later.
However, David was not to be found.
His mangled body was found the next morning at the bottom of Lake Terror.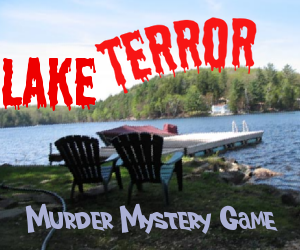 Everyone becames a suspect in this weird and grotesque murder.
Could it have been
■Heather Dodgy, the not so grieving widow?
■How about Tiffany Kandu, the twice divorced, volunteer boat-officer?
■Or the county Fire Chief, Fred Auger ?
■Don't discount Patty Nissnansky, the park ranger,
■Or her househusband, Nick Nissnansky.
■Could retired oil tycoon Petros Otis have killed David?
■ Or Terry Malone, the owner of the county garbage dump?
■ Candy is the world's oldest Yoga Instructor, but is she also a killer?
■ Consider Jack Hammer, the only cottage builder in the county a prime suspect?
■ And as local ghost hunter, can Melanie Spook find out what happened?
If you want to try your hand at solving the mystery, you need to play