Want to host a 1920s themed murder mystery party?
USA in the 1920s. . . . a time of gangsters and speakeasies and a great time to set a murder mystery party.
Murder at the Four Deuces parts 1 and 2
It's the opening night of Don Wannabe's glamorous new nightspot (and speakeasy) "The Four Deuces". This event has attracted all sorts – gangsters, singers, gamblers, a congressman – and, of course, "family." A night to remember in more ways than on as this night there's murder in the air….
Five years after opening night, a New Year's Eve party is arranged. Many of the same characters are invited and again it's time for murder.
Murder at the Four Deuces and Murder at the Four Deuces 2 are available from Dinner and a Murder Mystery Games.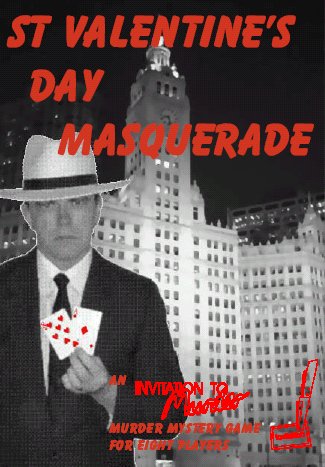 St Valentine's Day Masquerade
It is Chicago, it is 1923, and it is the time of prohibition.
Danny 'Diamond' Ditali, the infamous rum runner and gang boss has a problem. Last night he ordered 8 hits by eight members of his gang.
But now he hears that one of his victims is now in the hands of the FEDs, and squealing like a pig. Yet all his gang reported success, so how can this be?
Who lied to him? Who is still alive?
A murder mystery with a difference,
Who Didn't Do It?