In October 2011 Capo's Restaurants announced that an agreement had been reached to acquire the "CAPONE FAMILY SECRET" trademark and company.
Dominic Capone, reputed grandnephew of Al Capone, and Trademark Trustee Desiree Alonzo were summoned to Las Vegas where Nico Santucci, CEO and owner of Capo's Restaurants, made them "an offer they couldn't refuse." Santucci, a Las Vegas celebrity restaurateur, launched his new Italian Pasta and Specialty Sauces utilizing the CAPONE FAMILY SECRET recipes, which had been under wraps for nearly 80 years. They were recovered in undisclosed locations following federal raids on Al Capone's warehouses.
Capo's Restaurants have been a staple on the Las Vegas restaurant scene for years and the brand is often referred to as "The Original Las Vegas Speakeasy." Capo's is known as a celebrity hangout where major headliner acts from the Las Vegas Strip come to relax. These stars include Alan Thicke, Mark Wahlberg, Jon Bon Jovi, Dave Navarro, Carrot Top and Gordie Brown, all of whom are known regulars at the restaurant. It also would not be out of the question for socialites such as Kim Kardashian or Paris Hilton to walk through the door at any time.
Want a taste of a 1920′s Speakeasy?
Check out St Valentine's Day Masquerade, the murder mystery dinner party from ITM Games.
Set in Chicago in 1923, the time of prohibition, the story concerns Danny 'Diamond' Ditali, the infamous rum runner and gang boss. Although he ordered 8 hits by eight members of his gang, one of the intended victims is now in the hands of the FEDs, and squealing like a pig. This is a murder mystery with a difference.
Who Didn't Do It!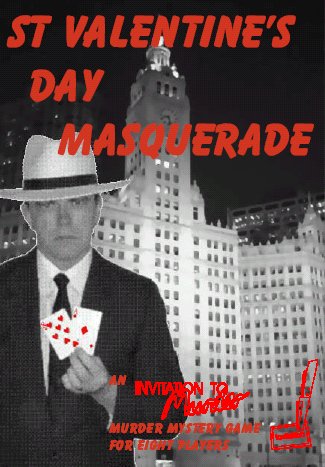 St Valentine's Day Masquerade is a dinner party murder mystery game for 8 Players.
This evening of role-playing fun only costs £ 20 from ITM Games.