Invisible is the first book in the Ivy Malone Mystery series by Lorena McCourtney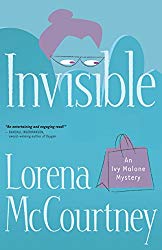 Ivy follows the Miss Marple/Jessica Fletcher tradition of being a little old lady sleuth.
However, instead of being seen as an investigator, she, like other ladies of a certain age, has become invisible.  Sales assistants etc just don't see little old ladies.
She decides to take advantage of this invisibility when vandals start tearing up the local cemetery. Launching her own unofficial investigation, Ivy soon becomes discouraged by her failure to turn up any solid clues. But after Ivy witnesses something ominous and unexplained, she can't resist putting her investigative powers to work again………
"Invisible" has been described as "A Christian Mystery" and includes comments about Ivy's faith and church going. Some readers have found it a bit over the top. I skimmed over it, taking it as a comment on what interests her. It could have been weekly trips to bingo or regular viewing of soap operas, neither of which would make me rush to convert to being a participant. It's up to you if you feel it offensive. I would say, however, that praying to the lotto balls is unlikely to help when you are being chased by a madman with a gun, so maybe Ivy has it right!
Buy now on Amazon at https://amzn.to/2PYncOd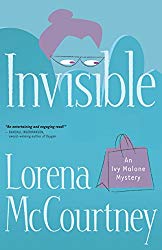 ITM Games Group Murder Mystery Newsletter
Dying to know about murder mystery? Don't miss out,just sign up today.