Book one in the Kiki Lowenstein series by Joanna Campbell Slan is Paper, Scissors, Death. However, there is also a prequel, called Love, Die, Neighbor which shows how Kiki came to be an amateur sleuth.
Love, Die, Neighbor
As the mother of an active toddler and the wife of an often absent husband, Kiki Lowenstein already has both hands full. But when the Lowensteins move into their new house on the same day the construction crew leaves, Kiki must learn to juggle boxes, baby, and big expectations. Her determination to be a good neighbor hits a serious roadblock when she angers the Nordstroms, the couple who live next door. Then Sven Nordstrom dies under mysterious circumstances….
Available from Amazon at https://amzn.to/2PTRIcl
Paper, Scissors, Death
Kiki Lowenstein has two great loves: scrapbooking and her young daughter, Anya. Her happy family album is ruined when her husband, George, is found naked and dead in a hotel room. Evidence from the crime scene proves George was not alone. Kiki's world unravels as she discovers that George wasn't the man she thought he was. In fact, he had a secret life, one that might have gotten him killed. Now Kiki struggles with a new reality: Can she support herself and her daughter while tracking down the man who murdered George?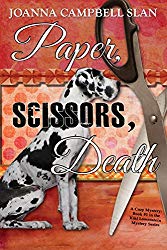 Available from Amazon at https://amzn.to/2MEJjLP