The Accidental Florist
This Jane Jeffry "mystery(!)" feels as if this is the last in the series. The children are growing up, Jane and Mel finally tying the knot, and Jane's new career as a published author taking off.
And the murder mystery elements have all but disappeared.
"She'll have to make time to help Mel find the killer if she wants to walk happily – and safely – down the aisle" it says on the cover.
From that shocking review wouldn't you think her life was in danger? But no, the first murder is announced and solved on page 33 (paperback edition). All neatly tied up in a couple of sentences!
As for the second murder, Jane and Shelley's self-defense class is cut short when two participants are murdered. However, the incident has no bearing on Jane other than to stop her defense course one class early. At no point was she in any danger.
The people who were in danger were Janes ex-mother-in-law and future mother-in-law, from Janes acid tongue and rude behaviour.
We are supposed to side with Jane because of past actions by these women ( and current in Thelma's case). However I felt Addie was attacked before she provoked, being given demands about what she was allowed to do and not do, and not having her calls returned. Jane was acting more like a stroppy teenager. I kept hoping Jane Dayus-Hinch would turn up to give her a good talking to!
The book is a lot less mystery and far too much Jane's personal life. We are even "treated" to a snippet of Janes next book.
This series has jumped the shark. Unless it can jump back, I sincerely hope this is the last. What a cop out !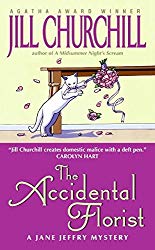 ITM Games Group Murder Mystery Newsletter
Dying to know about murder mystery? Don't miss out,just sign up today.