Theodosia Browning is the owner of the Indigo Tea Shop. Her friends and co-workers are baker extraordinaire, Haley and tea specialist Drayton. Theodosia Browning is also an amateur detective.
This proves handy as Theodosia is in for a shock at the inaugural Poet's Tea. Forced into one of the Heritage Society's austere halls due to heavy rain, she begins setting up a specially-prepared cake only to have a respected auction house owner land dead in the centre of it. Plummeting from the balcony, it appears someone had shot him.
But who?
With a full kettle of suspects, Theodosia pursues her investigation around Charleston and  into the murky swamps looking for clues.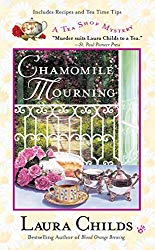 This is another book in the Tea Shop Mystery series by Laura Childs. As well as the murder mystery, there is a smattering of tea trivia. The book ends with recipes and information about hats and drying flowers.
I personally found the book a bit slow and the ending unbelievable. But see what you think. It's available on Amazon.