As the weather turns to winter, cast your mind back to our sweltering summer……..And relive the heatwave with this murder mystery by Reginald Hill.
The Roar of the Butterflies is the fifth novel in Joe Sixsmith series.
With Luton in the grip of a sweltering summer, private detective Joe Sixsmith, finds himself investigating a conspiracy at the Royal Hoo Golf Course.
Shocking allegations of cheating have been directed at leading member, Chris Porphyry. And now the reputation of both Chris Porphyry and the 'Hoo' itself are in danger.
Chris turns to Joe Sixsmith to go undercover and sort things out, even though the private investigator is unable to play golf.
Before long, Joe's unraveling a trail that includes missing balls, conspiracy and murder…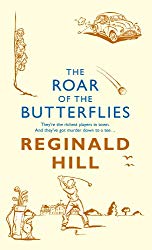 An interesting read, I rattled through in a couple of days.
Joe Sixsmith is a likeable private eye who knows nothing about golf. That doesn't stop him agreeing to help Chris Porphyry, who he describes as a Young Fair God, who has been accused of cheating.
I hadn't read the preceding books in the series, but that didn't spoil my enjoyment of this mystery.
A good read.
Available from Amazon and available from https://uk.bookshop.org/lists/as-seen-on-the-solve-the-murder-blog