Guest blog by Ian Thirkettle
James Patterson often writes in partnership with other authors. I was curious as to how these partnership books are written. They are presented as James Patterson books and he is very much the brand. I have not noticed a difference in style between different books of his I have read.
For example I have noticed some similarities between 'The President is missing', which was written with Bill Clinton, and 'The First Lady', which was written with Brendan DuBois. I would recommend both of these titles.
A quick google found various articles that describe the process of James Patterson writing with his co-authors.
There is quite a good description in the Guardian; https://www.theguardian.com/books/booksblog/2018/jun/07/bill-clinton-james-patterson-the-president-is-missing-co-authors
I was particularly intrigued by the graph;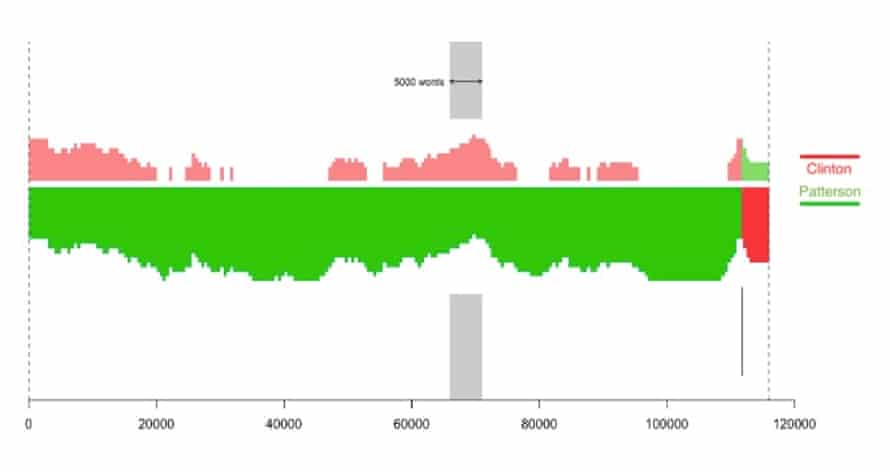 Stylometric analysis of The President Is Missing. Photograph: James O'Sullivan in the Guardian
This shows that the majority of the book is written in Patterson's style with undertones of Clinton. I have the image of Patterson marking Clintons work like a school teacher. The last chapter is mostly Clintons.
All this brought to mind a book I read a few years ago. Author Unknown by Don Foster. Don Foster is an English professor from New York. In the book Foster describes his work in Literary Forensics.
Literary forensics is a process to determine authorship of a passage, each individuals writing is distinctive and unique like DNA. The language you use, the structure, punctuation, all point to an individual author.
I am aware of some of my own DNA. For example I tend to write in short sentences, also I never use the word 'whilst' always preferring to use 'while'.
In Author Unknown, Don Foster describes some of the cases he has worked on. From identifying a poem by Shakespeare to the Unabomber to Monica Lewinsky.
It is a fascinating read which I fully recommend. It is written like a 'who done it' with Foster as the detective. If you enjoy true life procedural stories then seek out a copy.
'The President is missing' and 'The First Lady' are both available from https://uk.bookshop.org/lists/as-seen-on-the-solve-the-murder-blog.
All the titles mentioned are available from Amazon