With summer comes the annual village show and this year the City Adventurers decided to visit the Killington Annual Village Fete and Vegetable Show.
As always the village people were keen to show off their gardening skills and this year the competition was even more intense as there was to be a large cash prize for the winner.
We were expecting there to be a few squabbles over spinach, arguments over artichokes and tantrums over turnips……..this was another Murdered For Money event after all. So we were fully expecting a body to be discovered in the broccoli.
As it turned out Olive was being pressed. She had a number of issues while setting up her vegetable display, so it came as no surprise when she was found "pushing up daisies" in the herb garden.
Proctor and Gamble arrived from the local constabulary to clean up the case. As usual they were assisted by the audience, who don't beat around the bush in questioning the suspects. Would we be able to dig down to the root of the problem and weed out the offender? Well, I'm afraid we fell into the same trap as last time. We had sussed the culprit very early on, but changed our minds following the interrogation! Never mind.
It was another fun murder mystery by an excellent cast of actors. Killing Thyme was written by Lesley Gunn and directed by Bridget Wilkinson.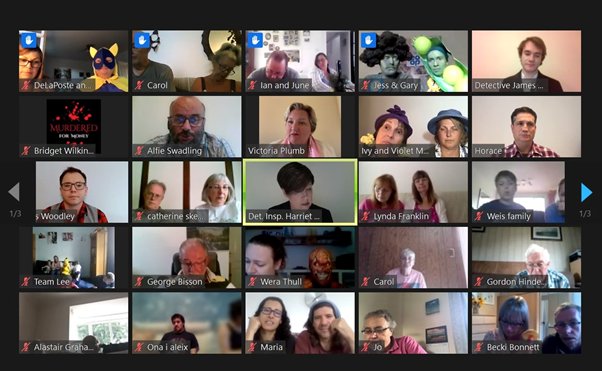 Their next production is "Mystic Murder".
This virtual challenge takes place between Tuesday 24th – Sunday 29th August 2021
Tickets are available from MURDEREDFORMONEY