Agatha Raisin book's make a great holiday read. So I found myself by the pool reading a copy of  Agatha Raisin and The Wizard of Evesham.
It starts Agatha having a bad hair day. She had been trying to disguise some grey hairs but her hair dye went wrong. Mrs Bloxby suggests she goes to see Mr John,  a hairdresser at Evesham. Mr John is not just a wizard hairdresser. He is also handsome, charming and a bit of a flirt……And he is a master at getting women to tell him their secrets at his salon.
However, Mr John has a secret life and when he is poisoned, there are rather a lot of suspects in the mix.
Agatha Raisin is on the case, assisted by Sir Charles Fraith. A lot of her investigations take place in hair salons. It's amazing how many times she is able to get a cancelled appointment…….she seemed to be getting her hair done by different hairdressers daily. The book implies the Cotswold's is full of women booking appointments then cancelling them.
As usual, Agatha is able to solve the crime. But at what cost!
The epilogue leads nicely into the next book in the series – The Witches of Wyckhaddyn – and explains why Agatha is sporting a wig in future.
A fun read, recommended.
Aside:

 

The Epilogue

The epilogue to The Wizard of Evesham serves a useful purpose, by introducing the next book. In comparison, 9th Judgement by James Patterson has an epilogue that feels bolted on to fill space. It doesn't lead to the next book, just adds additional jeopardy for no useful purpose. Similarly, in Need You Dead by Peter James, there is an added jeopardy chapter involving a spider that leads nowhere. IMHO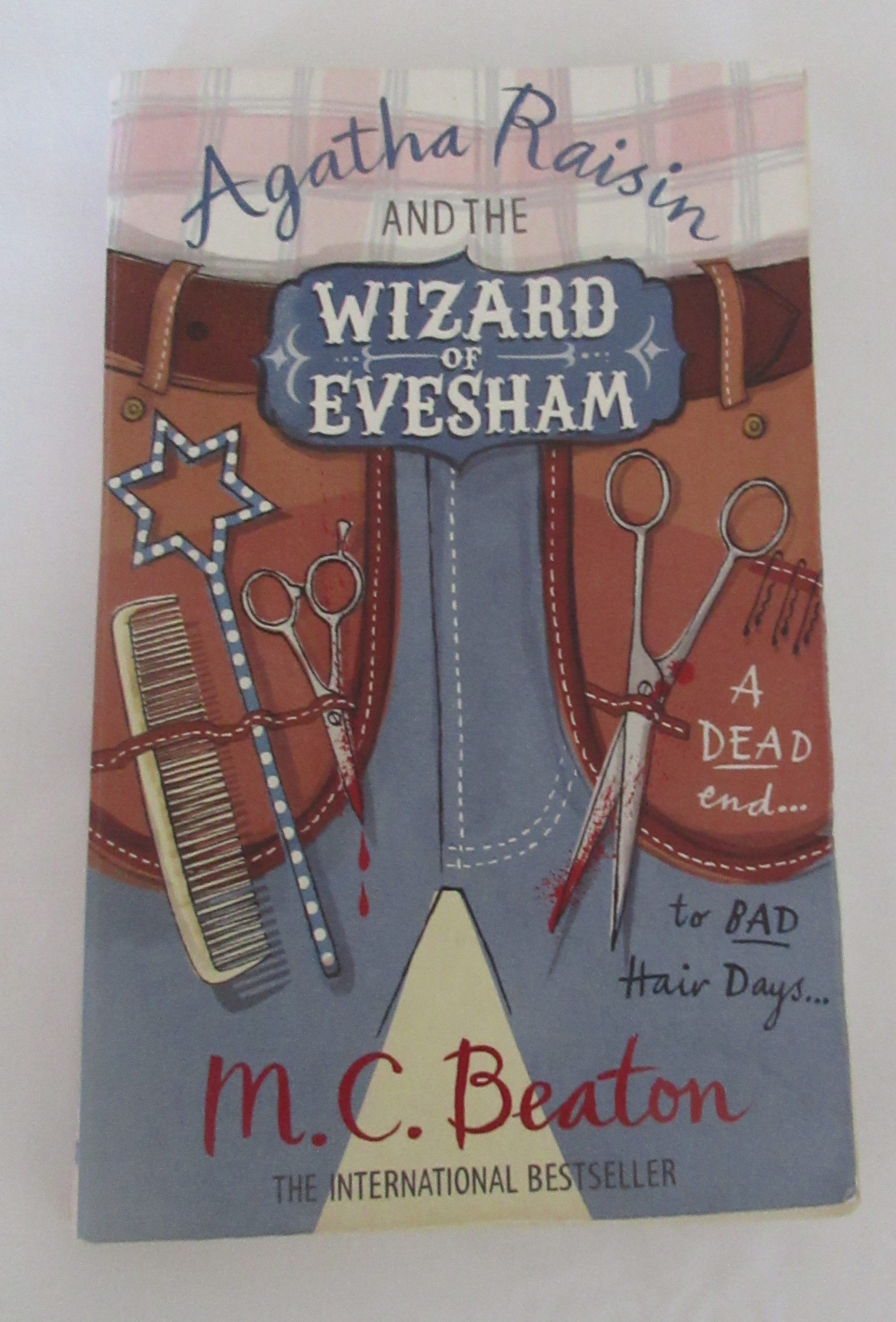 Plot
The local ladies all deem Mr John a wizard, so when Agatha finds a few grey hairs on her head – and the rinse she tries at home turns her hair purple – she makes a beeline for the handsome Evesham hairdresser. And as well as sorting out her hair it soon becomes clear the charming man also has designs on her heart – but their future together is cut short when Mr John is fatally poisoned in his salon.
Once again Agatha finds herself embroiled in a murder case. Was it one of Mr John's many customers, all of whom divulged to him their darkest secrets?
Available from Amazon