Although there was one team of City Adventurer Investigators at "Sudden death at Thornbury Manor", we missed that event. So we were looking forward to fielding two teams at Murdered for Money's next production.
The Gateau from the Chateau
Starting on 17th June 2020,  the murder mystery was a comedy tribute to the TV series 'Allo, 'Allo. One team of us were old enough to remember the show and found the characters bore a striking resemblance to the show.
The whole four days was very well acted with great performances from the cast.
This time, as well as the clues to unravel and video footage to analyse, there were puzzles to solve, making this a bit like a murder mystery and escape room combined. If you are used to escape rooms, coming across encrypted codes would not have fazed you. If you hadn't, however……..Luckily there was a private Facebook Group to help anyone who needed a hint.
As usual the event culminated with interrogating the suspects via Zoom.
For this event, ticket prices included a charity donation. A notice on their Facebook page showed the event had raised £847 for Wessex Cancer Trust
The Gateau from the Chateau – Synopsis
Listen very carefully I will say zis only once.
It is 1944. Welcome to a small cafe in wartime occupied France where the beaujolais is flowing and Edi is singing at the top of her out of tune voice.
Shh……In this little café a British airmen is hidden under a bed…….
No German officers are due this evening, so everyone can relax. But wait! what is this? Why is the Colonel rushing from the chateau with a black forest gateau!
Also, who is Tamara and what lies in the letter that has been left unopened by the door?
What follows is a comedy of mistaken identity , dead bodies and a painting that lies hidden in a bratwurst sausage…….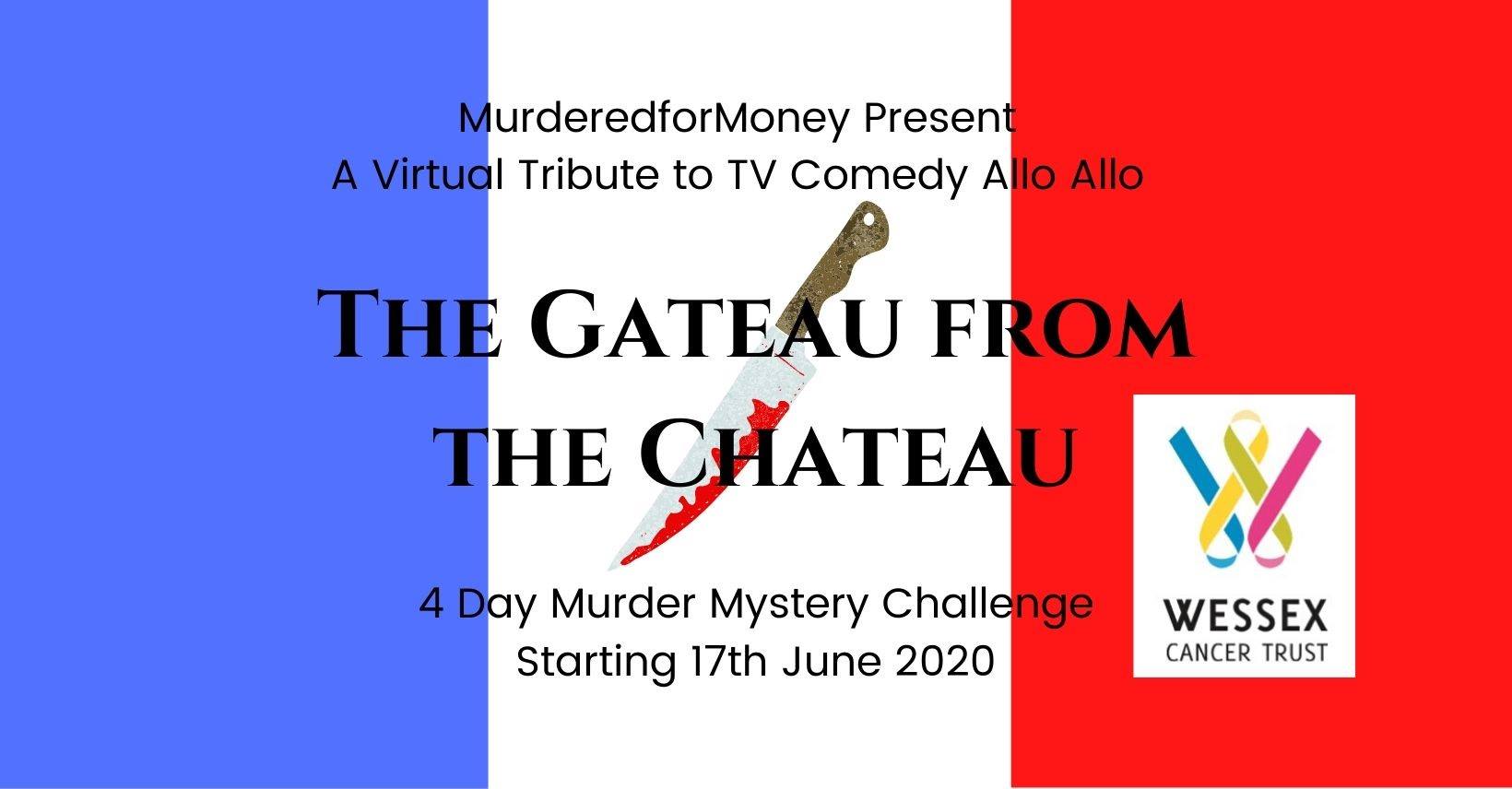 Murdered for Money's next production is Movies Mobsters and Murder
This is a 1920s virtual murder mystery. It is another 7 day murder mystery starting on Tuesday 14 July 2020. Tickets are available.
Join City Adventurers and solve murder mysteries…..
Join our club for people who want to live life to the full. Just click the link and join the club