Forty five minutes of engaging mystery
Time to sit back and watch a cosy murder mystery in the afternoon, as Mark Williams returns to our screens as Father Brown. This series is inspired by the stories of GK Chesterton, so fans of the books may be surprised by his interpretation. If you haven't read the books (I admit I haven't) you'll love this entertaining show.
Father Brown is a Catholic priest has a knack for solving mysteries in his English village. The series is set during the early 1950s, in the fictional Cotswold village of Kembleford. Filming actually takes place in the village of Blockley, where the church of Saints Peter and Paul is used as the St Mary church of the series.
The plots flow a similar template  – A crime occurs, the police suspect the wrong person, Father Brown, with the help of his close friends and his own wits, solve the case. Justice (but occasionally, not the letter of the law) is served.
Father Brown Characters
Mark Williams is superb in the character of Father Brown. He is aided in his crime solving by:-
Sorcha Cusack plays his house keeper, Mrs McCarthy. A prickly woman who knows all the local gossip, she is fiercely loyal to Father Brown and her friends.
Lady Felicia Montague, played by Nancy Carroll, appeared throughout the first four series. She left at the start of Series 5 when her husband, Monty,  was appointed Governor of Northern Rhodesia. Lady Felicia made guest appearances in Series 6. She returns in the opening episode of series 7.
Sidney "Sid" Carter, played by Alex Price was Lady Felicia's chauffeur, and St Mary's handyman. His skills and links to the criminal underworld of Kembleford were sometimes employed to solve a case. Sid made guest appearances in Series 6.
When Lady Felicia left the series, her side-kick role was taken over by her wayward niece Lady Penelope "Bunty" Windermere. She is played by Emer Kenny.
Father Brown has exasperated various police officers including:-
Inspector Valentine – played by Hugo Speer (2013–2014)
Inspector Sullivan – played by Tom Chambers (2014–2015)
Inspector Mallory – played by Jack Deam (2016–present)
Series 7
According to Will Trotter, Head of Daytime Drama in Radio Times "In this series we see anarchists, ramblers and Morris Dancers all throwing up new adventures for Father Brown but as ever, he's more concerned with saving souls that in just bringing the guilty to justice" .
The new series starts with Lady Felicia and Mrs McCarthy being taken hostage when a midnight train robbery goes wrong.
Can Father Brown save them? Tune in to BBC 1 on Monday 7th January 2019 to find out.
Father Brown Series 7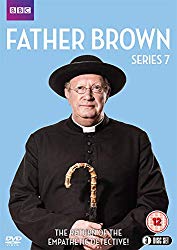 Series 7 is available to pre-order on Amazon.
Catch up with Series 1 to 6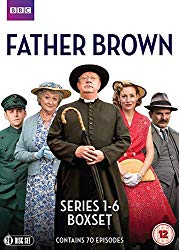 All 70 episodes from series 1-6 of the TV drama starring Mark Williams as the eponymous character created by English writer G.K. Chesterton.
Set in the 1950s in the fictional village of Kembleford, the series follows Roman Catholic priest Father Brown who has a knack for solving crimes. He is assisted by parish secretary Bridgette McCarthy (Sorcha Cusack) and is often a source of frustration for the local police.
Includes Subtitles for the Hard of Hearing.
ITM Games Group Murder Mystery Newsletter
Dying to know about murder mystery? Don't miss out,just sign up today.